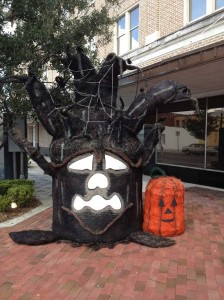 The month of October is always a great for family time in Orlando. There are Halloween events almost every weekend leading up to Halloween to get you and your kids in the "spirit" of things. Whether it's their first Halloween or they are experienced trick- or- treaters, there is something for everyone in and around Orlando.
1. Family Adventure Day: Black Hats and Spooky Tales
When: October 5, 2012 From 1-3pm
Where: Orange County Regional History Center
Cost: $5 per Child (under 15 must be accompanied by an adult)
What: Make witches hats, listen to spooky stories and carve pumpkins.
2. Community Festival/Fair
When: October 19, 20, 21
Where: St. Mary Magdalene Catholic Church, 861 Maitland Ave. , Altamonte Springs , FL , 32701
Cost: Admission is Free
What: Carnival rides, games, food, live entertainment, Auction, Bingo and Arts and Crafts
3. Pumpkins and Pies
When: October 20, 12 from 3-6pm
Where: Menello Museum of American Art, 900 E. Princeton St. , Orlando , FL , 32803
Cost: Free
What: Pumpkin Art Contest, Live Music, and Children's activities
4. Fall Festival and Pumpkin Patch
When: October 28, 2012 From 3-5pm
Where: Sanlando United Methodist Church
Cost: Admission is Free
What: Enjoy kid-friendly games, fun house, inflatables, pony rides, balloon artist, and free food. Shop for that perfect pumpkin at the church's Pumpkin Patch. Plenty of backdrops for family photos, too.
5. Fright School at the Public History Center in Sanford (formerly Seminole County Student Museum)
When: October 19, 8:30am – 3:30pm
Where: Public History Center, 301 W. 7th St., Sanford, FL 32771
Cost: $13 for kids ages 7-17 and $7 for adults. Payment and registration must be received by Oct. 12. To get your registration form, or for more information, email studentmuseum@yahoo.com or call 407-461-8227.
What: The Public History Center has scheduled their very first Fright School from 8:30am to 3:30pm on Friday, October 19. Workshop sessions include: writing your own ghost story using real history; creating your own make-up; using props wisely and effectively; easy costuming and effective storytelling! Owen Sliter of SpookHunters will be the special guest at Fright School.
There will also be a Pumpkin Fest at the center on Saturday, October 27th from 1-5pm with exhibit tours, children's activities, community vendors and live entertainment. It will be family fun for all!
6. Kid's Trick or Treat on Park Avenue
When: Saturday, October 27, 2012, 10:00 AM – 1:00 PM
Where: Park Avenue in Downtown Winter Park
Cost: FREE
What: Children are invited to dress in their costumes and Trick or Treat at the participating merchants on Park Avenue. More info at 407-644-8281 or http://www.winterpark.org
Theme Parks:
Most of the Orlando area theme parks offer a month of fantastic ghostly inspired events for young children up to adults.
Mickey's Not So Scary Halloween Party
When: Select dates from October 4-November 2, From 7pm-12am
Where: Disney's Magic Kingdom
Cost: $50.95 to $64.95
What: Trick-or-Treating, Parade, fireworks
Sea World's Halloween Spooktacular
When: October 6-28 (Saturday's and Sunday's only) From 12pm-8pm
Where: Sea World
Cost: $76.99 to$ 84.99
What: Trick-or-treating, arts and crafts, stage shows

Zoo Boo Bash
When: October 20-28 (Weekends Only) From 9am-3pm
Where: Central Florida Zoo
Cost: $8.95 to $12.95
What: Trick-or-treating, costume contests, face painting, haunted hayride
Pin It