For both Central Florida residents and visitors alike, Winter Park's "Park Ave" is famous in its own right, with high-end shopping, fine-dining options, world-renowned art collections and beautiful parks, canopied by historic oak trees for all to enjoy. You likely won't experience "the Ave" without spotting a top-notch, luxury automobile, a Maltese in a doggie stroller, a Rollins College student out for a jog or locals sipping their decadent wines on the various restaurant patios.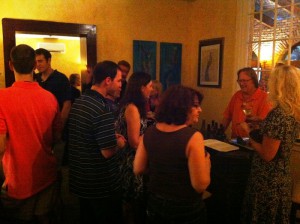 If this sounds like your kind of scene, then you will be happy to know that twice a year (late spring to early summer and early fall) the Winter Park Chamber of Commerce and the Park Avenue Area Association put together the "Winter Park Sip & Stroll." This event is an evening featuring wine samples and appetizers in a casual atmosphere offered by various Park Ave restaurants and merchants. The Sip & Stroll encourages attendees to visit the local downtown Winter Park businesses at their own pace and to better get acquainted with the neighborhood.
The Park Avenue businesses that participated in the recent Sip & Stroll on September 22nd, 2011 included BAJALIA, Cocina 214, DownEast, Eileen Fisher, Gary Lambert Salon & Spa, Lilly Pulitzer, Luma on Park, Luxury Trips, Orchid Thai Cuisine, Park Plaza Gardens, Sassafras Sweet Shoppe, Spice & Tea Exchange, Sultre, Synergy, The Bistro on Park Avenue, The Doggie Door, Things & FASHION, Thread, Through the Looking Glass, Timothy's Gallery and Tolla's Italian Deli & Café.
Despite the less than desirable weather, the event still went on as attendees bounced from business to business under umbrellas, avoiding sporadic down-pours of rain. The merchants and restaurants offered delightful wine samples paired with their delicious appetizer(s) of choice, creating a shortened version of what one might otherwise experience should they choose to partake in a full shopping or dining visit.
The three hundred or so Winter Park Sip & Stroll tickets were sold in advance for $25 per person, which secured your full-access pass to all of the participating businesses along with a commemorative wine glass.
To sign up for the next Winter Park Sip & Stroll, and to learn more about the different City of Winter Park activities, click here to visit the Chamber of Commerce website and sign up for their e-newsletter. Also, for more information about the Park Avenue Area Association, please click here.
 Article by Melanie Teel
Pin It