Several weeks ago I had the honor to take the SunRail Sneak Peek Ride, a very exclusive event mainly attended by city officials, developers, city planners and some local Realtors including yours truly. The event consisted in a train ride (on an Amtrak train) down the same path the SunRail train will use (all the way from Deland to Kissimmee) and an exhibition and luncheon at the Kissimmee Civic Center.
RealEstateWall.com has reported about the Orlando SunRail before, but this is the first "real" experience we were able to make with SunRail. And I am telling you, it is getting very real very soon for Central Florida! Passing all the construction sites and seeing the workers actively constructing and building the new platforms, parking lots and stations was amazing. Yes, I can truly picture our future now, and I am proud that Central Florida has taken the step and started this new chapter in public transportation. While SunRail will mostly function as a commuter train in the beginning, I believe that a lot of people will eventually also use it for weekend and spare time activities. The fact that you can bring along your bikes makes it very attractive for those of us seeking or a fun sport activity. And I can see myself using SunRail to bring my little one(s) down to the parks. It will be exciting for them too, and I will be able to interact with them on the train, something that is almost impossible in the car. But this just a s a side not, let's move on to what I learned at this exciting event:
As I was driving up to Deland (I live in Sanford), it was immediately clear that rush hour is still a huge problem on I-4. Having worked in real estate since 2005, I have been fortunate enough not having to deal with traffic jams. I schedule my showings conveniently before or after those nightmare hours on the highway. But I do remember pre-2005 very well. Working in Metro West I had to commute from Sanford and in order to get down there on time I literally had to get up at 5am or earlier. Needless to say, being stuck in traffic after a long day is just as annoying and stretches your day unnecessarily. Do you see where I am going with this? Yes, a commuter train would take all of this pressure off your shoulders. Hop on the train, connect your laptops, or simply use wifi, to access your files or browse the web, bring a book, or take a quick nap while on the train on your way to work. No traffic mess and risk for accidents, beautiful!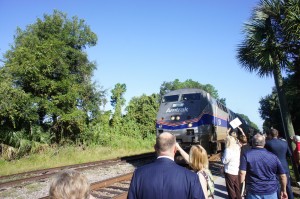 As our group was waiting for the train we had the first "real life" train experience though: our train was delayed by 30 minutes. This is of course something that needs to be considered too when talking about public transportation: there can be delays just as much as there are delays when taking the interstate or highway in the morning or during rush hour. The difference is that waiting at a (covered) train station is not as aggravating as "waiting" in stop and go traffic on I-4. There are a lot more things to be done at a train station: I was checking my emails, updating my facebook status and commenting, reading up on the news, checking the weather, you name it…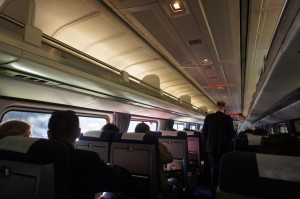 Another huge advantage in my eyes is the fact that we will all be moving more, we will lead a more active lifestyle using this train. Now I am not saying it will be much like NYC or Washington here in Central Florida, most of us probably still have to "commute" to the commuter station. But in denser, more urban areas like Orlando Downtown and Winter Park, people will experience just that. Will Sun Rail help Central Florida to become more urban? We will see…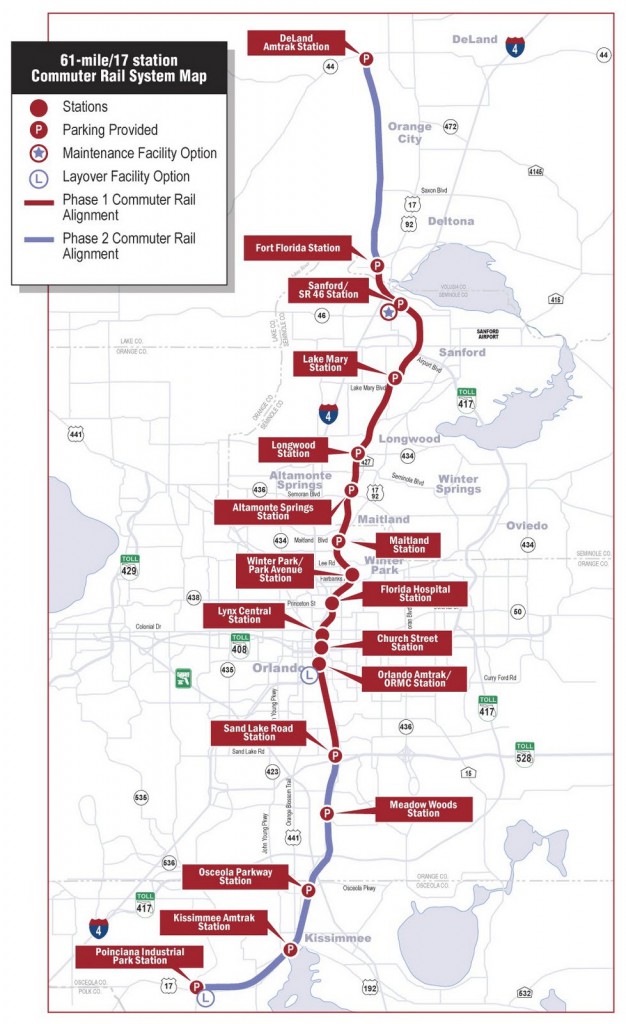 Here is some more information I gathered during this very informative train ride (summarized in a bulleted list to make it easier on you!):
Phase 1 of Sun Rail will be operational May 2014 (no delays!)
Every station will be different based on communities and their needs
From Deland to Kissimmes it took us 1 hour and 45 minutes (we left at 9:40am and arrived at 11:25am)
The Debary parking lot is already built
Sun Rail runs 70 miles/hour
There will be double tracks to ensure best service during rush hours
The vehicle storage maintenance facility will be located in Sanford
Construction is currently very active in Sanford, now laying double tracks
Downtown Lake Mary is only a block away from the future station
25,000 people commute every day from Lake Mary
There will be lots of new buildings in downtown Lake Mary (which was already named the #1 small downtown of the USA
Longwood has not started construction yet
Longwood downtown will be close to the Longwood station
Altamonte Springs will be one of the largest stations with 326 parking spaces
Maitland will have 125 parking spaces and just began construction.
The residential area across the Maitland station will have a pedestrian walkway that will directly connect residents to the station.
Winter Park will have a brand new Amtrak station perfectly located by Park Avenue. Sunrail will be located South of the current Amtrak station. It will have 2 side platforms as opposed to just one middle platform so they are re-modeling the current layout that you see in Winter Park.
There will be tab on tab off technology for paying when using the train.
Florida Hospital will have a "Health Village" that is easily accessed by Sun Rail.
The Lynx station in downtown Orlando will also have huge retail development, lots of buses will connect to and from here making Downtown Orlando the most ideal location for commuters.
LYMMO was developed 12 years ago (bus rapid transit = busses using designated bus only lanes to get passengers faster from A to B) making Orlando one of the pioneer cities for such a system. With Sun Rail, LYMMO will be expanded even more, making it even easier to get around in Orlando Downtown. New routes encompass busses to the new Creative Village and to the Hospital. There is also a rapid bus system in planning around US192.
There will be no parking at the Winter Park, Orlando downtown and Orlando Health stations.
Sandlake Road and Orange Avenue station will be the last ones in Phase 1 of Sun Rail.
The city of Kissimmee has invested 40 million dollars to improve the infrastructure around the Sun Rail station.
Bikes can be transported on the train. There is even talk of a bike share program, i.e. for a fee you can pick up a bike at any bike share station and drop it off at another.
Phase 2 will be operational in 2016 and will include double decker trains (how cool is that?)
Next pieces in the public transportation system: connections to the Convention Center, Sand lake Road, International Airport and Medical City in Lake Nona.
The long term plan is: Sunrail will be the "spine" of public transportation while Lynx will be the "rib cage" that connects everything
Personal Findings:
Trust me, it's so hard to take pictures from a driving train 😉
It's fun to be "on the other side" for once. How often have I cursed at a passing train because I got stuck at the rail traffic lights and delayed for several minutes… Those trains really take their time sometimes! This time I sat inside the train looking through the window at a very long line of waiting (probably cursing) cars…
Will I as a Realtor be using the train to get to showings? I don't think so. While I wish I could take advantage of it on a daily basis, it would probably take decades and NYC like conditions (i.e. denser developments and crazy traffic/no parking) for Realtors to use the train. With homes so wide spread over town it just wouldn't be efficient use of our time. Imagine using public transportation when showing about 5-6 homes that are all spread out within a 15 mile radius… Yes, I don't think that would work out too well… After all, this is a commuter train, and Realtors don't really commute from home to home to home to home…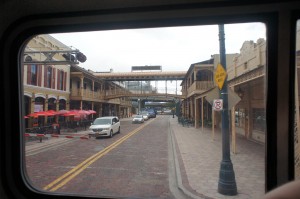 So how will we accomplish all of that you may ask? It's through support and more funding. Federal taxes, state taxes, local taxes and user fees are all sources of funding. Federal taxes includes the gas tax which is a fixed rate of $0.42/gallon. Each county also has the option to increase this tax by up to $0.12/gallon. I was told Volusia county already did that. There is talk of another type of tax, namely charging people for the amount of miles they are driving per year. Another option could be a sales tax or a raise in property taxes. Fact is, as usual, you can't please everyone and certainly there will be some people upset about the choices made to raise funds. It will be however a huge improvement for the entire area and as a Realtor I can say, Sun Rail will definitely help property values and make entire areas more attractive for home buyers. My hope is that Central Florida will slowly move into a more urban lifestyle!
And here some impressions of the Sun Rail Sneek Peak ride of September 2012:
Of course, this wouldn't be a real estate blog if I didn't also mention at least one neighborhood that relates to this post. During the train ride we passed Riverview Townhomes, a new gated subdivision that will have direct access to the Sanford station. This is huge!
Check out homes currently for sale in Riverview:
[idx-listings linkid="58554″ count="20″ showlargerphotos="true"]