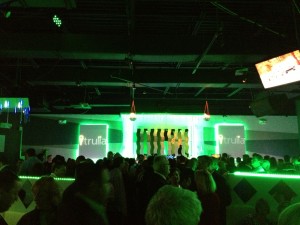 Last Saturday night we had the honor of attending the Trulia Icebar Party. This by invitation only event was one of the many events real estate vendors were hosting during NAR's Realtor Convention here in Orlando. Apart from the expo this event was the only one we attended this year – and I think we chose wisely!
I had always wanted to voluntarily freeze at Icebar Orlando, but since we don't live too close to I-Drive and usually avoid the "touristy" nightlife venues we simply never made it out. So I was very excited when I received the invitation and gladly accepted.
Below are some picture impressions of our night and a few things I previously didn't know about Ice Bar Orlando:
Not the whole bar is made out of ice! Contrary to what most people believe, only one room in the bar is the "cool room". When you get to Icebar, you first walk into what looks like a pretty normal bar (called Fire Lounge, but no, it isn't hot in here!). It's a good size space with a large dance floor, DJ and a good size bar. It looks modern with seating benches around the dance floor and little white tables.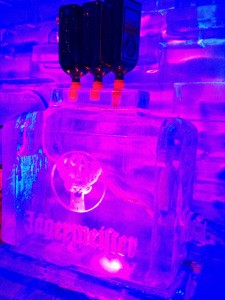 Now to the important part: the ice! So, basically you will be in line when you want to enter the ice room. A group of only about 20 people is let in at a time, then it's the next group's turn. Before you enter you are given a coat or cape (I heard fur coats are also available if you pay extra) and one glove. I know, "why only one?", you may ask. Well, the one glove is not so much for you to keep your hands warm, but much rather to keep your hands from sticking to the glass made out of ice that you will be given inside the bar. Your drink will be sipped out of this glass. So it's much to avoid the Dumb & Dumber "tongue effect", only in this case it would be a "hand effect".
As you step into the ice bar it almost feels like the floors are a bit slippery as well, so be careful in there! You will immediately notice that it is indeed freezing here. It's a nice effect though if you are voluntarily seeking it. I doubt that I would enjoy this type of experience on a cold winter night up in the Northern US, unless I had a lot of hot Gluehwein like on the Christmas markets back home in Germany. Drinks here however are iced as well, speeding up the freezing process from the inside. The entire bar and even the container drinks are poured out of are made out of ice! It looks gorgeous, very cool (literally)! The poor barkeeper is dressed like he actually is serving drinks outside during a blizzard. I am sure that's why they chose a guy for the job, needless to say girls wouldn't get nearly as much tip as they do inside in warmer territory (I may be wrong on this one though because I've only been once and it might just be that it was this icekeepers, I mean barkeeper's, shift…)
So, would I go again? Maybe to bring one of our friends who are visiting Orlando. But then again, why would I bring someone who most likely knows freezing temperatures very well to a "frozen bar" in a city that offers tropical heat almost year round (which is what most of our guest are longing for)? I think IceBar might be nice to cool off on an extremely hot summer day, but I'd prefer a Miami style roof top pool bar (we need one of those in Orlando!!)…