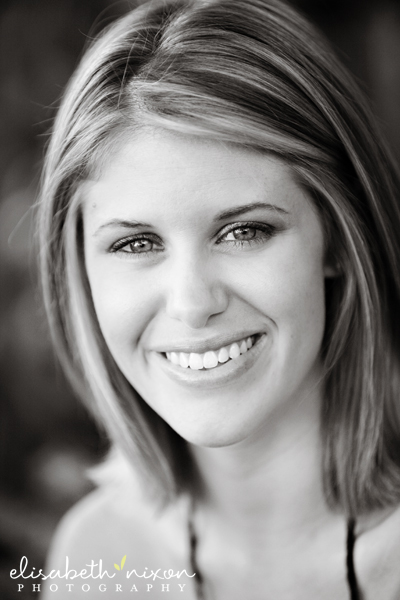 This post is part of our "Mel's Favorite Neighborhoods" series. Having lived in Central Florida for over 13 years, Melanie got to explore many of Orlando's most popular areas. Mel is the perfect match for RealEstateWall.com as she can give our readers valuable insight into how it really is to live in a particular neighborhood here in Orlando.
Follow Melanie as she explores Orlando's most popular neighborhoods. Click here to learn more about Melanie Teel or read more articles written by Melanie.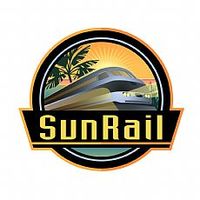 For those of us who reside permanently in Central Florida and for those who visit from time to time, I'm sure we can all agree that the traffic on our roads has reached an obnoxious state. It's nothing short of stressful, time-consuming and quite often lethal. It does not appear to be improving and let's face it, Central Florida isn't suddenly going to stop being an appealing place to live.
The reality is that nearly everyone commutes to and from work, and with the Central Florida population projected to grow more than double in less than five decades, the residents have needed and will continue to need additional, creative transportation options. I am happy to report that the Florida Department of Transportation and the federal government are moving ahead with the proposed 61-mile stretch of a commuter rail, deemed the "SunRail".
The SunRail will be designed to carry three cars, each holding approximately 150 people. It is expected to carry as many people as one lane of I-4 holds during peak traffic times. The commuter rail will utilize current railroad tracks and connect DeBary to Sand Lake Road in Phase I, then continue further south and connect to Poinciana in Phase II.
The SunRail will operate on a schedule, running every 30 minutes during peak rush hour times and every two hours during non-peak times. The average travel time will be approximately 45 minutes, connecting residents in outlying areas with more centralized destinations.
Phase I is projected to begin operating in year 2014 and will consist of twelve different stops.
Then in year 2016, Phase II is projected to be operational, adding five more stops to the SunRail service.
The Phase I stations will include:
DeBary
Sanford/SR 46
Lake Mary
Longwood
Altamonte Springs
Maitland
Winter Park/Park Ave
Florida Hospital
LYNX Central
Church Street
Orlando Health/Amtrak
Sand Lake Road
The Phase II additional stations will include:
DeLand
Meadow Woods
Osceola Pkwy
Kissimmee Amtrak
Poinciana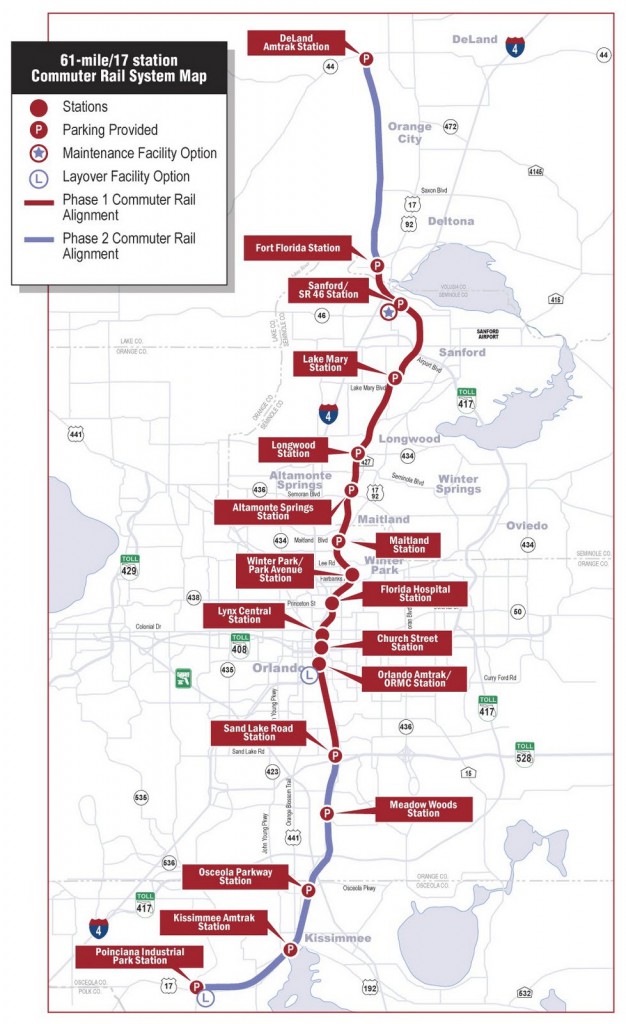 Once fully operational, the SunRail in total will connect four CentralFlorida counties with both a time and cost savings commuting option. It will also create nearly 8,000 direct jobs and over 5,000 indirect jobs, making the project a smart investment in the future growth of Central Florida.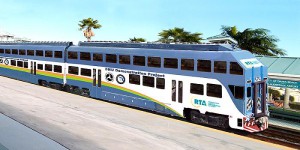 Personally, my favorite aspect of the SunRail is the design and amenities. The cars are actually being designed as "double-deckers," which is so fascinating to me. All trains will have restroom facilities, power outlets to all seats, luggage and bicycle racks, and wireless Internet connectivity.
I imagine that with all these amenities, not only will commuters save in time and money from driving, but they will also save themselves the stress and hassle of navigating the grid-locked roads, and potentially gain time to be more productive while commuting. Be sure to visit the SunRail's website to monitor the developments and gather more information about the overall project.