Our List of Must See Homes at the Orlando Parade of Homes 2020
As every year, we get very excited about the Orlando Parade of Homes! For two weekends (and sometimes also during the week) we all get to check out some of Orlando's most fabulous remodeled homes as well as stunning custom homes, but also new and innovative communities by well known builders. This is not only inspiring for anyone looking to build their dream home or homeowners currently thinking about remodeling their current home, but also for anyone else who has the slightest interest in (beauitful!) homes, architecture and the latest design trends.   
Now since we have a pandemic happening, this year may look a bit different from previous years, but keeping social distancing, mask wearing and other safety guidelines in mind (see video below), the event is still pretty much what it always was: a self guided (socially distant) tour through Orlando's most stunning new or newly remodeled homes, so enjoy! 
Previous Articles about the Orlando Parade of Homes:
Our visit to the Orlando Parade of Homes 2017
The Orlando Parade of Homes is taking place from Saturday, July 18 through Sunday, July 26th, 2020.
We were able to tour Homes 1 through 4 from our list below on opening Saturday and added photos we snapped at the homes below! 
It was another great experience at this annual family friendly event! Our boys truly enjoyed admiring these gorgeous homes and it was fun picturing ourselves living in the homes and neighborhoods. We also gathered lots of ideas for the home we are about to build so I'm very grateful for the inspiration.
The tour was very well visited and everyone we talked to was just as suprised about that as we were. Because of the pandemic and the fact that the tour is taking place at an unusual time of year (summer as opposed to spring), the organizers were not expecting crowds. Looks like this was just the perfect socially distant weekend activity though!
We felt safe at all times (masks inside were of course mandatory) and everyone kept their distance. In addition to that hand sanitizer was provided everywhere and high traffic items such as door knobs were wiped down frequently.
Check out our top picks for the Orlando Parade of Homes 2020
1. 826 W Lyman Avenue, Winter Park
Builder: Urban Perch
Bedrooms: 3 | Bathrooms: 2.5 | Area: 1,759 Square Feet

Open

: Monday-Friday by appointment only. Please call (407) 797-1121 to schedule. Saturday: 10am-5pm, Sunday: 12-5pm
We simply couldn't resist this unique home and its outstanding design. Inspired by the Florida resort town Alys Beach with its Moorish architecture this home is a real show stopper on the outside – and we can only imagine how special it will be on the inside! We heard about quartz countertops, engineered wood floors and even a private front courtyard! And all of this within walking distance to Winter Park's Park Avenue? What's not to love?
Our verdict: We are impressed with what Urban Perch was able to do on such a small lot! No space was wasted in this gorgeous home and we were in love with the amazing front courtyard!
2. 1718 Lakeside Drive, Orlando
Builder: Lahr Homes
Bedrooms: 5 | Bathrooms: 4.5 | Area: 4,831 Square Feet

Open

: July 18-19: 10am – 6pm / July 25-26: 10am – 6pm
This home looks and sounds like a masterpiece of modern design! Set on Lake Rowena's shoreline the home offers lake views from almost every room as well as from the large covered lanai and balcony while also combining indoor and outdoor spaces. If you are looking for modern, you'll find it here!
Our verdict: We could have spent the whole day at this home, but that would have been a bit awkward… This home stood out because of its modern design and amazing lake views! That huge covered balcony is a dream, and how about that sunken bathtub? Definitely earned the "Outstanding Design" ribbon! 
3. 1090 Kenwood Avenue, Winter Park
Builder: Carmen Dominguez
Bedrooms: 4 | Bathrooms: 3.5 | Area: 3,047 Square Feet

Open

: July 18 & 19: 10am – 6pm / July 25 & 26: 10am – 6pm
This Winter Park charmer is also located just a few blocks from Park Avenue. The farmhouse inspired pool home offers an elegant open-concept floorplan that is probably going to impress all of us. Upgrades include wood grain tile, shiplap walls, designer light fixtures, chef's kitchen with Quartz counters and high end appliances, oversize walk-in closets, smart home technology and more.
Our verdict: This was the kids' favorite home because of its third floor! They had all kinds of ideas how they would use the floor. This is a beautiful home with lots of high quality upgrades and attention to detail. 
4. 523 Country Club Drive, Winter Park
Builder: Classic Homes
Bedrooms: 4 | Bathrooms: 3 | Area: 2,738 Square Feet

Open

: Saturday & Sunday 1-5pm / Friday 11am-6pm
Described as one of a kind Urban Rustic Home in the waterfront community of Lake Killarney Shores (residents here enjoy private lake access for skiing, boating, paddle boarding, kayaking and more!) this 2 story pool home offers a fabulous open floor plan. We are especially excited to see the triple set of 8′ sliders that open to the summer kitchen. If you're looking for high end upgrades, this home has them all! For that reason we believe this home deserves to be on our "must see list".
Our verdict: Wow! This home showcases some stunning design and the sliding doors didn't disappoint! From accent TV wall to super modern Master bath, this home is worth a visit! Fun fact: you can park 3 cars in this high ceiling 2 car garage thanks to a car lift! 
5. 11962 Landing Point Loop, Orlando (Lake Nona)
Builder: Mattamy Homes
Bedrooms: 4 | Bathrooms: 2.5 | Area: 2,311 Square Feet

Open

: Monday 3pm – 6pm, Tuesday – Saturday 10am – 6pm, Sunday 12pm – 6pm
This may not be a custom home, but we are very excited about the innovative Lake Nona neighborhood this beautiful home was built in: Meridian Park will be home to over 4,000 families. What makes this community so special is that it connects art, parks, technology, and nature. Technology: every home will have true gigabit internet speed (and that's included with your HOA fee!). Nature/Parks: Neighborhood parks and pocket parks will feel connected by marathon's worth of trails to keep your lifestyle active. Art: While taking a stroll, admire the beautiful outdoor art around the community. The art installations will be rotated twice yearly.
As resident you will also be able to take advantage of the resort-style amenity center with pool, yoga lawn, amphitheater, parks, bike share program, and green spaces.
Bonus Home: 161 Villa Domani Circle, Davenport
Builder: Bellavista Homes
Bedrooms: 4 | Bathrooms: 3.5 | Area: 1,974 Square Feet

Open

: Monday – Saturday: 10am-6pm, Sunday 12pm-6pm. 
This home just makes the perfect vacation home! Located in Central Florida's exclusive boutique gated resort with only 63 homes and within minutes of Central Florida's attractions and the International Airport, this home showcases contemporary design mixed with industrial architecture – and we just love those creative Disney bedrooms! 
What is the Orlando Parade of Homes?
Saturday, July 18 through Sunday, July 26, 2020
FREE Self Guided Tours of 65 of Orlando's Best Homes 
Open to Everyone, but follow CDC Guidelines
At the 67th Annual Orlando Parade of Homes, you will be able to discover innovations in home building, architectural design, energy efficiency, smart homes, outdoor living, interior style, remodeling, and pool design!
Pick your favorite homes and plan your route today!
Questions about any of these homes or real estate in general? Please fill in the form below and let's chat!
Central Florida's Latest Homes for Sale

Sorry we are experiencing system issues. Please try again.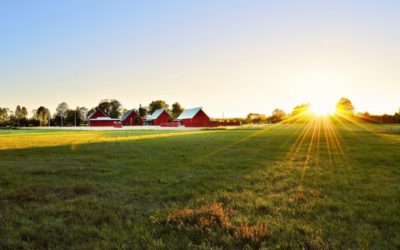 Agrihoods near Orlando Options for a more sustainable lifestyle With Covid-19 changing all of our lives and having us rethink our lifestyles, there are...