Jingle bells and halls of holly, it's the most wonderful time of the year! We might not have snow in Central Florida but we do have some amazingly decked out homes and fantastic Christmas light shows. Below is a list of what we consider some of the best Christmas Lights in and around  Orlando.
Best areas to drive, walk or pedal your way through: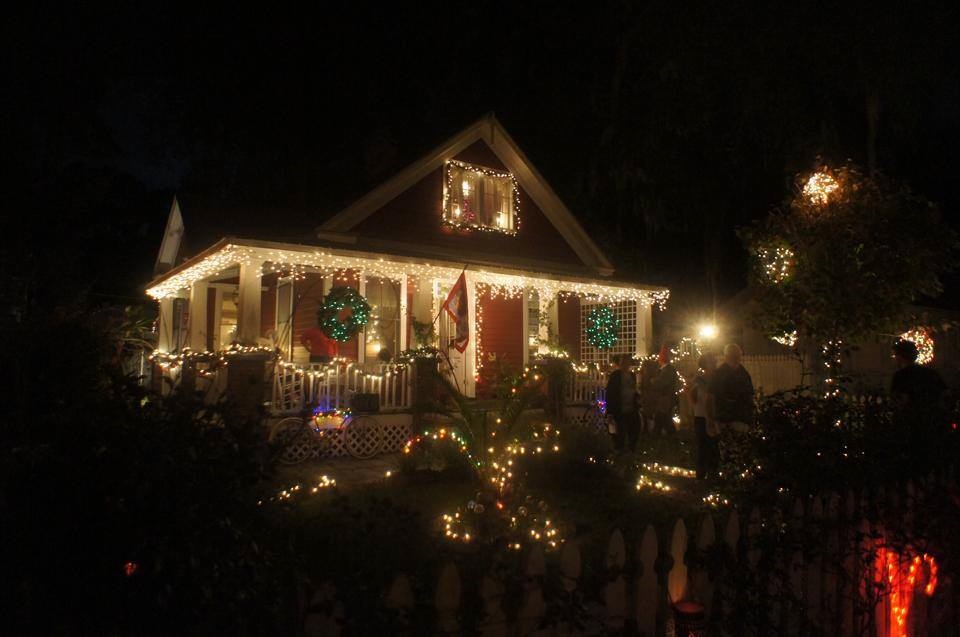 Downtown Mt. Dora – This quaint little town about 30 minutes north of Orlando, really gets into the season with lights throughout the downtown and a must see stop in Donnelly Park, where you really feel you're walking through a winter wonderland.
Downtown Sanford Historic District – Homeowners in the Sanford Historic district pull out all the stops during the Holiday season. Gorgeous Victorian, Colonial and Craftsman homes are all aglow with Christmas Lights. And if you want a close up look, join the Sanford Holiday Tour of Homes on December 3rd.
Audubon Park Garden District – Drive around this Orlando area neighborhood or join the (kid friendly)  Holiday Lights Bicycle Tour on December 12.
Downtown Orlando – Downtown Orlando businesses are full of holiday cheer and are joining together to offer a map guided tour of "festive lights and window decorations". December 1 -17 guests can even enter to win gift cards and prizes by completing a few photo ops. More info here: https://www.facebook.com/events/1813597958907200
Best Single Stop Homes :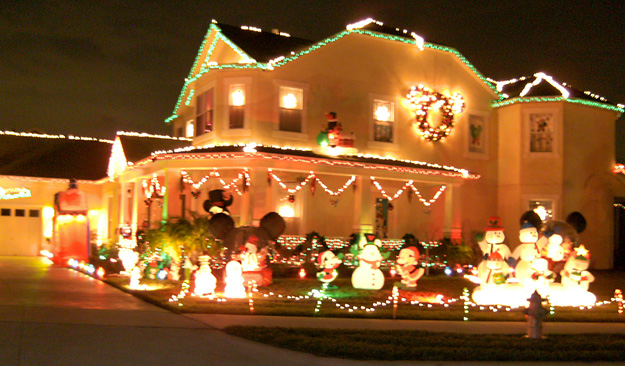 Lights on Topsail Street –  Located on the east side of Orlando in Avalon Park, this home goes all out with a musically choreographed light show. Check thier facebook page for dates and times – https://www.facebook.com/LightsOnTopsail/?fref=nf
Christmas Wonders House –  Located at 1642 Sunburst Way, Kissimmee this home is in its 26th year of Christmas light and music synchronization. And was even a national finalist in the USA today Holiday Lighting Contest. http://www.christmaswonders.com/index.html
Christmas down the Block – It all started at 1033 Jeater Bend Drive, Celebration, but over the years the entire street has joined together to offer one of the biggest (10 homes and counting) musically choreographed light shows. Want to make it even more special? You can even get a horse and carriage holiday home tour, to make a reservation for that call 321 624 6380.
Upsala Nurseries – Located in Sanford the Dutch Mill Nursery offers an impressive christmas light display. Be sure to pull over and spend a few minutes enjoying the holiday view.
Lake Nona Lights – Located at 9800Old Patina Way, this home was chosen by Better Homes and Gardens as their favorite light display in 2012. This LED light show is set to music and has shows Thursday – Sunday starting at 6pm. http://lakenonalights.com/index.html
Magnolia and 17th downtown Sanford –  If you have come to sanford to view the gorgeous christmas lights, don't forget to drive by this spectacular home. The lights entwined with the giant tree, are by themselves worth coming, not to mention the view of the rest of this large corner lot.