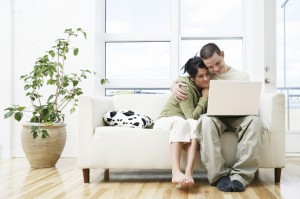 For those of you who have already ruled out single family homes, you may now wonder "what is the right home for me? Condo or town home?"
This is a very good question because there definitely is a difference between condos and town homes. Much of it is related to a lifestyle.
With a condo you definitely will have the least amount of maintenance work since almost everything will be included. That however can make the HOA (Home Owners Association) fees very high. You will also have the least amount of privacy in a condo since you will/may have neighbors not only to both sides but also on top of and below you. So in many ways owning a condo still resembles the apartment lifestyle.
Recently condo sales have not been great. In fact, at the moment it is hardest to sell a condo. So if you are looking at it from an investment point, a condo will probably give you the least return on investment at this point. Of course it also all depends on the area you are located in. Downtown Orlando is not as affected as the Lake Mary and Sanford area because there is simply more demand for the condo lifestyle and owning a home is almost impossible due to the limited amount of space. So it just makes more sense to own a condo there. But in areas that are surrounded by town home and single family home communities, owning a condo is maybe not the way to go, unless you know that your lifestyle requires it. Many times, flight attendants or people who travel a lot, as well as people who only live in Florida a certain time during the year, will find a condo more attractive.
A town home is a nice combination of a condo and single family home in a way that you have less maintenance than in a single family home but still more privacy than in a condo. But there are of course also restrictions and many town homes don't have private yards (even though that seems to become more fashionable now). The HOA fees are not as high as in a condo community but still higher than in a single family home community.
With a single family home of course you also have the option to buy in a community/neighborhood where you won't be required to pay any fees. Those communities usually provide the greatest degree of home ownership freedom since you can do whatever you want with your home. You could paint it, put up a fence etc. without having to ask for permission. There is however a disadvantage to that since you never know who your neighbor may be and I have seen pink or green homes that have shocked entire neighborhoods :o) In an HOA restricted community at least the HOA will try to keep everything unified which in turn helps the resale value of a single family home (and of course also of a town home or condo). Looking at return on investment, single family homes typically go up more in price and are also easier to sell. It all depends though because no point to buy a single family home just because of that and then not enjoy living there because of all the maintenance work etc. It is also seemingly easier to meet people in a town home or condo environment. Looking at the investment side is important but you always have to also like where you live.
On top of that there are some ownership differences. While town homes and single family homes are fee simple ownerships, condos usually aren't. In a condo you typically only legally own the inside of the unit, but not the outside. With a condominium ownership it is also extremely important to review the HOA and Condominium documents since there may be more restrictions that you are aware of and there also might be assessment fees etc.
Here's my own story: When we bought our first home we had to make a similar decision. Coming from an apartment, it seemed a big step to me to buy a home and I would have preferred to buy a town home. My partner however thought a home would be the better investment. So we bought a house. Within 2 years the town home we had looked at back then had gone up far less in value than the house. However, I need to say that during the time we lived in our first home I was not happy about the fact that the community didn't have a pool and I did complain almost daily about that… So I basically sacrificed lifestyle for return on investment. Fortunately everything went well and we were able (because of the return) to buy a house with pool in a different community that I love. We were lucky though and in a different market, maybe we would have had to stay in our old home…and I would not have liked that at all. Anyway, that is just my personal experience that I wanted to share with you.
If you have any questions text or call us at 407-340-6458 or fill in the form below.
Pin It