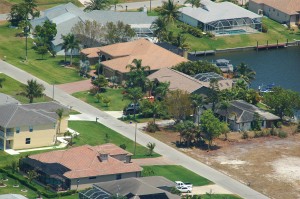 [hana-code-insert name='hoa_video' /]
For all of the headaches involved in dealing with Home Owners Associations they actually exist to keep your neighborhood in tip top condition and preserve your home's value.  Most Central Florida neighborhoods have some type of association and most certainly all Condo and town home communities. Their role differs depending on the type of home you choose as does the fee. Some communities have an annual or quarterly fee although most condo or town home's have a larger monthly fee.
In a neighborhood of single family homes, the HOA serves to keep the common areas well maintained as well as to approve any exterior improvements you might make on your home. A new fence, a new paint color, even a child's swing set or pool could have to be approved by the HOA before you can start the work.  The money you pay to the HOA to live in this community usually goes to maintenance, if the community is gated then part of the money collected will insure the gate functions properly and has regular service, the same for a fountain, pond and in some cases even the street lights are maintained through that communities HOA.
A condo or town home neighborhood is a little more complex. Because these types of homes usually share interior walls, the HOA is responsible for maintaining more of the property as well as the common areas, such as the pool, the landscaping and even the exterior paint. This results in a higher monthly association fee that you must pay with your mortgage each month. Because the expenses to maintain a neighborhood like this can run quite high, the HOA tries to keep a certain amount of money in a reserve account. The reserve account serves to pay for large community expenses such new roofing or painting. If the reserve does not have enough money in it to cover these costs, then the association will divide the expense among all of the owners.
It is important when looking in a condo or town home community to note the condition of the structures and gather as much information as possible regarding their plans and the HOA's financial situation. It can be a huge relief to own your own home without some of the stresses, but it does come at a cost, so be sure you understand what you are buying before you sign on the dotted line.