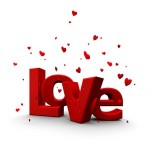 Love is in the air – it's spring time! That brought up the question many (first time) home buyers ask: Is there such a thing as love at first sight when it comes to buying a home?
As in real life, it does happen. The magical moment of walking into a home and just knowing, "this is the one," does exist – it has happened to me. Working with home buyers every day though, I have to say many believe this is how it has to happen. Those are the romantics that never give up hope and wait for the perfect moment, the feeling that they have heard their friends talk about.
However, be assured that there is also something called "growing love". You don't necessarily need to fall in love with your home at first sight. Many times, once you have thought things through, weighed all your options and done the numbers you learn how to love and appreciate a home. This may sound funny because I wouldn't approve of something like this in real life. When it comes to real estate though, sometimes it is better to think with a clear mind. It is after all an investment, too. Sure, you need to like the home you're buying, but don't get carried away by the superficial. Just as in real life, your future partner (home) can be deceiving in what he (it) promises to offer: Those beautiful French doors may look stunning, but if they lead to a tiny backyard, are they really worth it? There are things in a home that cannot be changed, let's call those things the inner qualities of the home (likewise compare these to the inner values of a future husband). Ask yourself what is really important! To me, when it comes to buying a home, there are some key features that you should look for:
Location (location, location) – with that I don't only mean the location of the home in regards to your points of interest but also the general location of the home within the neighborhood. Do you really want to own the home that everyone has to pass when entering the community?
Layout – While there is a possibility to pull down walls or add some, the general layout of the home is pretty much what it is. Nothing will change after you move in.
Size – Ok, so you have decided to just build that pool later. That's fine, but be sure there is enough space in your backyard and be sure to review the Home Owners Association (HOA) documents before buying your new home. What if you are not allowed to build that pool of your dreams? Size of course also refers to the square footage of the home. Sometimes it's better to have one bedroom more than needed. You don't want to give up your dream home over a bedroom later, do you? Important for the ladies: is there really enough closet space?
Sometimes it's good to not set your expectations too high but rather look for the things that realy count. Keep all those things in mind when looking at homes and stay realistic and you will soon lead a wonderful "relationship" with your home 🙂
We provide "real estate matchmaker services", in other words, we would love to advise you with your home purchase and help you find "the one" you want to live in. Text us or give us a call at 407-340-6458. Or if you prefer, fill in the form below and send us a quick message so we can get in touch.
Pin It