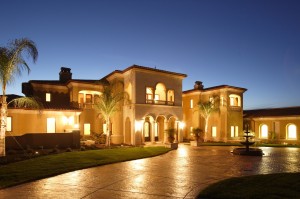 Orlando is not Hollywood but we also have a good amount of exclusive luxury homes available for sale here in Central Florida. In fact, some of the homes may be very similar to those you see in California, only that your money will get you much further here in sunny Florida. Take a look at the property showcase on the right to preview and browse Orlando's most expensive homes!
Click on any of the homes to view more pictures, virtual tours and a description of its features.
There are several areas that are considered most expensive within Orlando:
Windermere (often referred to as "new money" area): Within Windermere the most expensive subdivisions are Isleworth (Tiger Woods owns a home here), Chain Du Lac and Reserve at Lake Butler Sound. Another popular upscale community is Keene's Point.
Along Markham Woods Road (often referred to as "Millionaire's Row"): Markham Woods Road extends from Longwood to the West Sanford/Heathrow area. Along this road you will find multiple upscale million dollar and custom home communities. Most famous among these are without a doubt Alaqua and Alaqua Lakes. Other luxury communities along Markham Woods are the new Veramonte and Carisbrooke subdivisions as well as Lake Club that was featured in the Street of Dreams. This is where famous Magic basketball player Dwight Howard bought the most expensive home ever sold in Seminole county at $8 million dollars.
Winter Park (often referred to as "old money" area): Since Winter Park is one of the oldest, most established areas in Orlando, there aren't really a lot of subdivisions in the modern sense. Nevertheless, some of the most expensive and impressive homes of the Orlando area are located in the upscale Park Avenue area of Winter Park, with lakefront properties leading in price. A newer luxury community in Winter Park is Windsong.
Of course, that doesn't mean those are the only expensive areas in Orlando, just the three you would think of first. Other upscale neighborhoods and subdivisions are among others, Heathrow and Lake Forest in Seminole County and Bay Hill and up and coming Lake Nona in Orange County.
If you have any questions about these areas or are interested in purchasing a home here give us a call at 407-340-6458 or simply send us a quick message and we will be in touch!
Orlando's Most Expensive Luxury Homes for Sale – Most Recent Listings