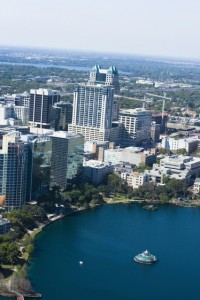 Orlando has a reputation for being a suburban mecca. But over the past few years more and more people have grown tired of their long commutes and been returning to live in the downtown Orlando area to be closer to jobs, unique restaurants, and entertainment. If you are one of those people who want to live amidst the action, here are a few things you should know about buying a home in downtown Orlando.
Just like most cities, Orlando has several "neighborhoods" with in the downtown core, and each offers its residents something a little different.
Thornton Park, on the east side of downtown, offers a mix of older historic homes ranging in style from quaint cottages to more stately tudors. Trendy new apartments and renovated lofts also help to make this part of downtown Orlando so desirable. It is a fun and vibrant place to live, within walking distance of coffee shops, restaurants, parks, and many office buildings. This convenience does come at price however, and due in part to supply and demand, you can expect to pay more per square foot than in many suburban neighborhoods.
Downtown Core, there was time when all you could find in the downtown core of Orlando were touristy shops and restaurants mixed in with office buildings and banks. Not anymore, downtown has recently seen the addition of several residential buildings and many others have converted space for lofts and apartments. This local will put in the center of both the nightlife action and work day commute.  It may still be a bit pricey but with the burst of the real estate bubble prices have come down considerably for this trendy spot.
College Park is actually just northwest of downtown Orlando and while you still may need your car (or bicycle) to get to work just about everything else is easily within walking distance. It is a quaint neighborhood comprised mostly of bungalows and spotted with turn of the century estates. Tree lined sidewalks will lead you to Edgewater Drive where restaurants, trendy shops, and book stores abound.
Homes for Sale in Downtown Orlando