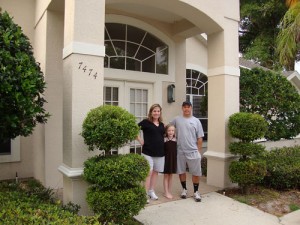 Congratulations Beth, James and Hannah on your new home in Sanford FL!
We helped this nice young family to find their dream home earlier this year. The home was a bank owned property in not so good shape – the interior resembled an outdated early 90s style, the pool was black and full of algae and the yard was about to overgrow the home.
When we went back to visit Beth, James and Hannah last week we were in for a pleasant surprise:
The home had undergone a major home improvement and now looks like a gorgeous contemporary executive home! James really has done a wonderful job! Among many other things, he tiled the main living areas, put in high quality wood laminate floors in the bedrooms, replaced the kitchen cabinets and custom tiled the fireplace (accessible from both living and family room). The pool is all cleaned up and the backyard in control. A professional contractor couldn't have done a better job! We were excited to see such a dramatic and impressive change and know that these new home owners will have lots of joy with their dream home. Cheers to you and enjoy!
Below are some pictures documenting the change…