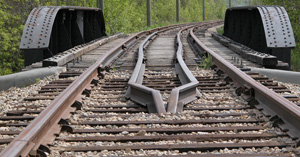 When it comes to buying a home you are often faced with difficult decisions. One of our Sanford buyers is currently wondering: should I buy a home behind a train track?
It truly is a tricky question: most people will stay away from even looking at a home that has a train virtually running through their backyard.
When you talk to home owners though they almost always assure you that it is not an issue at all and that they don't even hear the train anymore. And I believe that! I think you can get used to any type of "noise" and specially when it comes to trains, first of all, they don't run permanently but rather just 4-5 times a day (and keep in mind I am talking strictly about the current situation in the Orlando area here!), and second, most homes these days are very well isolated to block most of the noise (when inside).
I know several people who live/have lived behind train tracks and have never complained about it. In fact, I have sat in their backyards when the train ran by and it really wasn't as loud as I would have thought. Important though is of course to not be in area where the train whistle blows – like at the train station downtown Winter Park 😉
Questions for our Orlando buyers though should always be: will the SunRail change the current train track usage? And if so, will the home I am buying just be behind the train tracks or will I at least be within a short walking distance from the next station (this could be a pro!)?
Keep in mind though that, as mentioned above, when it comes to selling your home, most buyers will skip homes behind train tracks altogether. That means selling or even renting your home will be a challenge, because even if the buyers are well aware of the fact that the train isn't as annoying as they claim it would be, they would never admit it – just as you wouldn't if you were on the buying end. So basically calculate a price cut of 20%, sometimes even more depending on the closeness of the tracks.
Also, if you are an investor, looking to rent the home, you will have to deal with a lot of rejection before finding the right buyer. They will almost always ask for a rent reduction as well. As owner at least you will just once have to deal with the rejection and that is when you are selling your home. If you are prepared though and not in a rush to sell, it should be alright.
PROs:
20%+ reduction on the purchase price – great for you as buyer
Privacy: train tracks are typically blocked off by hedges and fences so you'll have added privacy.
You might be within walking distance of a station (in Orlando this could (!) be the new SunRail
CONs:
With so many options out here in the Orlando area (we still have lots of space!), why would a buyer choose a home behind the train tracks (unless it was a hot seller's market). Keep in mind that we don't live in New York or Chicago, cities with limited space and lots of train tracks (that are actually useful, i.e. they transport people!).
20%+ reduction on the purchase price – bad for you as seller
Bottom line is: If you are planning on living in the home and don't mind a little higher noise level and are looking to save some money on the purchase price, a home behind the train tracks could be for you.
Here are some communities that are close to train tracks in the Sanford/Lake Mary. Some of these communities are either located across train tracks or have train tracks running behind some homes of the community:
Claudia on Google+
Latest Listings in Sanford, FL