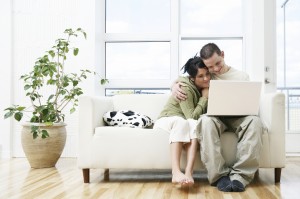 While hunting for your first home it can be easy to get distracted by all of the amenities of the house. Fresh paint and a large room family room may seem like just what you were looking for, but it is important to keep your head on your shoulders and consider a few things before writing that offer.
The real estate mantra "Location, Location, Location!" – It's not something Realtors just say for the heck of it. But it is also something that is a bit personal. The perfect location on paper, may not be the perfect location for you.  Check out the area surrounding your potential new home on foot and by car to determine if it is the right spot for you
Think about the features – The steam shower may be impressive, but what are you sacrificing in order to have it? What features can you live without and which features are must-haves? Make a list of the most important before viewing the property and then check against it while you view the home.
Ask lots of questions – Don't be afraid to ask questions, this is a big investment and it's better to risk asking the question than to not ask and find out a miserable secret later. Remember to ask about the electric bill, the property taxes, any major repairs or remodels that have been completed and what appliances and fixtures come with the house.
Look Inside Everything – Viewing the kitchen the bathrooms and the living space is great, but sometimes it doesn't tell the whole story. Be sure to look at the door frames, the windows, inside closets, and under cabinets.