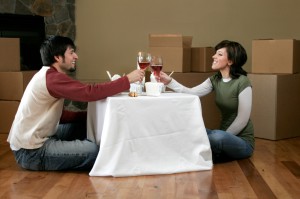 In part one of Buying Your First Home: Are You Really Ready?" we talked about some of the advantages of owning your first home.  Making the decision to buy a your first home is personal, so of course some advantages vary from person to person. Before you jump in with both feet it is definitely worth it to look at the disadvantages and some of the new responsibilities you will be taking on.
1. Repairs – You can't call your landlord when the toilet overflows anymore. And all of that water rotting your base boards? Yup, that is now your problem. These little expenses and inconveniences can really add up over time. Most experts agree that it is wise to budget an additional 10% per year for unseen expenses.
2. Mobility – Got a new job in a new city? Really annoying neighbors? Well you can't really just pick up and move anymore and it usually takes about 3-5 years to recover your upfront out of pocket expenses, such as your down payment and closing costs.
3. Maintenance – Keeping your home in good condition takes work. Caulking the windows once year, re-grouting the bathroom, Fresh paint on the exterior, pressure washing the driveway. All of this takes both money and time. Forget about spending every Saturday at the beach. You are a homeowner now, and you will need to spend some of your free time doing regular maintenance on your home.
4. Motgage Costs –  Most of the time your total mortgage bill will be a little higher than what you could expect to pay for rent. In addition to your principal and interest payment, you must also pay property taxes and home owner's insurance. If you put less than 20% down you will  also have to pay PMI (Private Mortgage Insurance) until your home has appreciated or you have paid down your loan to equal that 20%.
This is exactly what got so many people in trouble during the mortgage crisis. They were unprepared for the true cost of their home. Lenders quoted principle and interest payments  giving the buyer the impression he/she was getting a great deal. Only to find out months later that adding in property taxes and insurance could almost double their monthly payment.
When the time comes, and you think you are ready to buy, sit down and carefully weigh both the advantages and the disadvantages of buying your first home. There certainly are many advantages, pride of ownership one of them, but it is a big decision and probably one of the largest investments you will ever make.