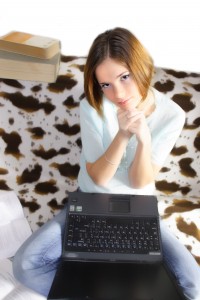 Now that you're ready to start your house hunt, you have probably gathered your list of what areas you want to look in and what type of home you want to purchase.  So here are a few Dont's to keep in mind while you're out prospecting future homes.
1. Don't rush yourself – be sure to set aside an ample amount of time to thoroughly look through each home. Try not to schedule any appointments or meetings within an hour of your intended house hunt. This way, if you happen on a home that your really like you can spend a little extra time looking around and maybe even discussing your offer strategy with your Realtor.
Which brings about the next point.
2. Don't try to do it alone – There are many reasons you want a Realtor on your side while shopping for a house. For one, driving by homes and calling the seller directly can be a huge waste of your time. Let your Realtor do the research for you and schedule the showing if the house meets your criteria, there is no need for you to spend valuable time on a home that may not even have that 4th bedroom you have been looking for. By not having a Realtor you also may give the seller an unintended upper hand in the negations.
3. Don't  keep your opinions to yourself – There is no reason to be rude about a property, but your Realtor will have a better idea what you are looking for when you explain what you like and don't like about different properties. Save yourself and your Realtor a little time by offering your opinions, if you must have an island in the kitchen let your Realtor know, so he/she can omit the homes that don't meet your criteria.
4. Don't ignore details –  If you really like a home then be sure to look at all of the details. Open every door, even if you think it may be the air unit, you won't know until you look. Check inside the cabinets and open the appliance doors.
5. Don't stress out – Sure it can get a little stressful looking at properties all day. It is a huge investment and of course there are some things you just won't sacrifice. But try to keep a level head and plan for time at the end of your home tour to relax and put into perspective everything you have seen and any notes you may have made.