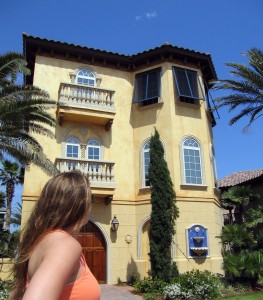 The Orlando real estate market is currently full of choices for buyers, but before you fall in love with a home check to make sure there are no red flags. Here is a list of the top ten warning signs that a home may not be the great deal it seems.
1.Too many homes for sale in the neighborhood – Sure, there are many homes on the market right now and some neighborhoods got hit harder than others after the mortgage meltdown, but if every house on the street is for sale, it's best to find out why. Ask the neighbors what's going on, also ask your real estate agent, it could just be bad timing, but it could also be a sign of a major problem.
2.The smell of the home – every home has its own smell, but if you walk in the front door and something just doesn't seem right, it could be a red flag. Inspect this home extra carefully looking for water damage which may indicate mold.
3.Spotty paint – If the home has only been re-painted in spots, or only one wall it could just be that the owner was freshening up and filling in picture holes. But be careful, because it could also be a sign of mold or mildew.
4.Neglect – does the backyard look less like a yard and more like a jungle? Is there a mountain of dust accumulated on picture frames? If the homeowner has failed to maintain the most basic parts of the home, there could be more serious hidden problems.
5.Bugs – Clearly, no one wants to buy someone else's infestation. Once a home has a bug problem, particularly in Florida, it is often difficult to get rid of them and it can be quite costly. Keep an eye out, not just for the critters but also look under cabinets and inside closets for their droppings.