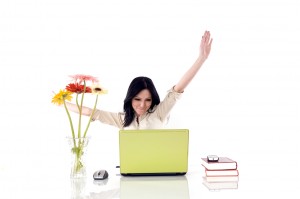 You might have heard the news circulating that the real estate market has become a golden ticket for buyers, and especially first time buyers.First time buyers, previously out priced of homes, now have wide spread, home value reductions, as their entrance to the market. On top of that, first time home buyers are also being generously "gifted" with $8,000.00 from the federal government towards their down payment.
Sounds good doesn't it? A bounty of affordable homes AND a significant amount of money to help you buy one of them?
But if you have never bought a home before, the process can seem intimidating. Knowing where to start and who to talk to can be overwhelming for many first time buyers and you can quickly start to feel that you are no longer the captain of your ship.
But there is no need to stress out, there are people whose job it is to guide you through this process and help keep you on track. They are your mortgage broker and your Realtor. And probably the two most important people you will need to deal with.
Your mortgage broker is there to help you define your budget and set a limit as to what you can reasonably afford. They typically like to work within certain ratios, determining what your income is versus how much debt you have. The main difference between a broker and a bank is that the broker, as a general rule, is talking with many banks and determining on your behalf who will offer you the best loan. A bank on the other hand is only using their criteria to qualify you and sometimes have a limited number of loan options to offer. Usually your Realtor can refer you to a reputable lender so, you will not need to search the yellow pages trying to figure out who to call.
Not only can your Realtor help you to find your lender, they can of course help you to find your new home.The realtor will sit down with you and go over your "wish-list", what your "must haves" are and what you can do without.
There are also some questions you should probably go over before you sit down with your Realtor so you are ready when they ask. For example, how many bedrooms, bathrooms and square feet are you looking for? What type of neighborhood? It is important to you to have a lot of property and no neighbors or someplace that is very low maintenance? Basically create a list of what you like and don't like and it will help your Realtor to find exactly what you are looking for.
Your Realtor's main job is to guide you through the process from beginning to end. Helping you to find your lender, your home, your inspector, and often sitting with you at your closing to make sure everything has gone smoothly. So, when you think that you are ready buy, the only phone call you will have to make is to your Realtor. They will handle the rest.
And remember: The services a Realtor provides are FREE to you as the buyer. In Florida, Realtors are paid by the seller!